The Children's Area is full of pleasing colors, natural light and comfortable seating.
Located in the lower level of the library
Child-friendly furnishings and other decor assure children that this is their special area of the library which includes an interactive play wall, story room and computers with age appropriate games and other learning resources. There is a wealth of information and entertainment for children in the collection of books, audio books, music CDs, DVDs, magazines, and programs designed to engage children and to encourage the love of reading.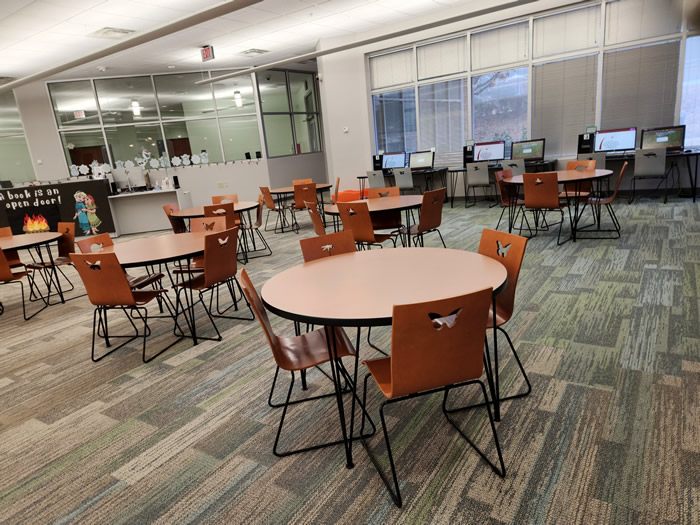 Our Collection
In the children's area, visitors will find books for every age and interest, from toddler to upper elementary grades, fiction and non-fiction.
Children's Programming
The Youth Services Department offers many programs in a seasonal format for all ages: babies to teens. Youth Services staff members are experienced and enthusiastic about offering activities that are meaningful and fun for children of all ages. All programs, events, and classes are free and open to the public.
Technology
There are eight computers in the children's area available for children to use to play games such as Reader Rabbit and Sponge Bob Typing. Also available is educational software such as Encyclopedia Britannica, Merriam Webster Dictionary, Encarta (encyclopedia) and World Explorer. Internet access is not available on the children's computers, but wireless access is available throughout the library.
(computer discs) are available for check-out and can be used in desktop or personal computers. Types of CD-ROMs are Sesame Street's Reading Basics, Nancy Drew Mysteries and Math Blaster.